You can find the technical program of ICVS 2015 here: [final program].
The list of papers to be presented in each session (both Oral and Poster) of ICVS 2015 can be found: [papers per session].
Oral Presentations: Each paper selected for oral presentation will be given 20 min in total. The presentation itself should not exceed 15 min, and as a result there should be left at least 5 min for questions and discussion.
Poster Presentations: Posters should be formatted to DIN A0 size (841mm x 1189mm or 33.1″ x 46.8″) and in portrait orientation.
---
Final Program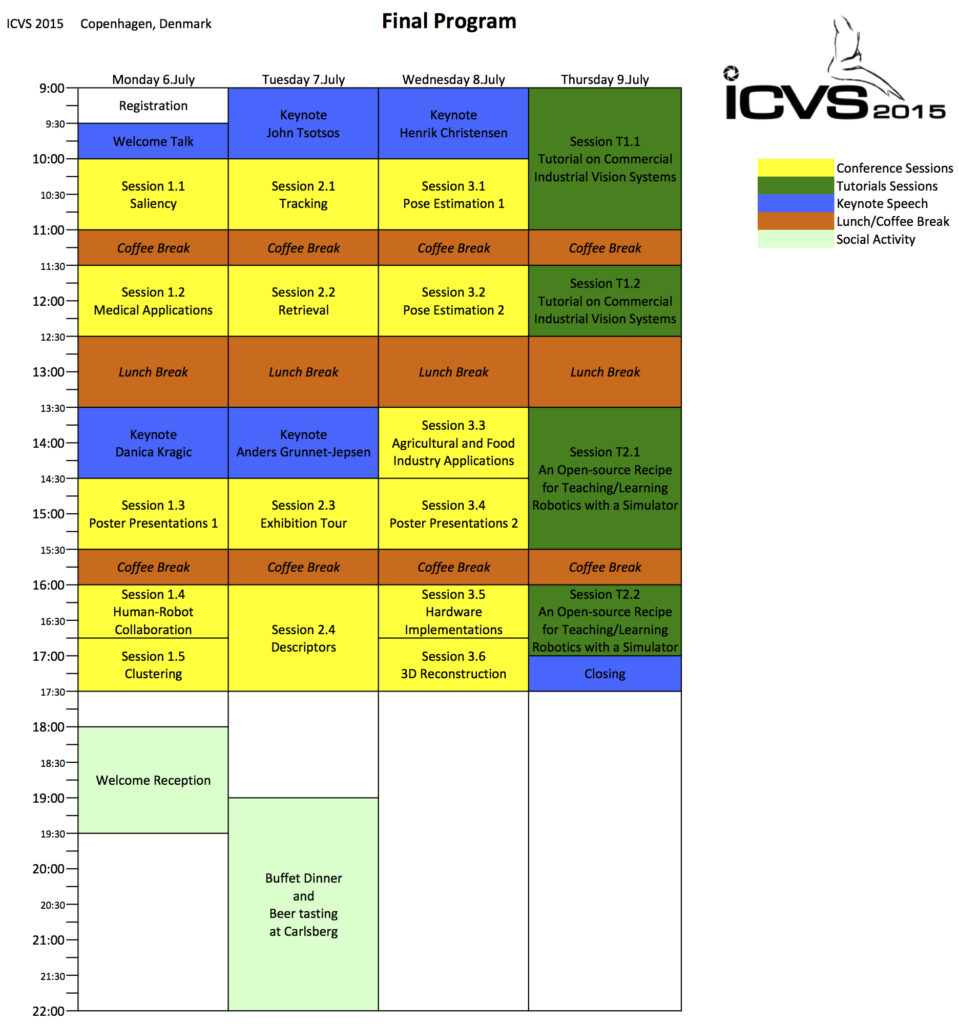 ---


List of papers to be presented per session
Oral Presentations
Session 1.1 : Saliency  [Monday, July 6 @ 10:00-11:00]
[10:00-10:20] "Saliency-Guided Object Candidates Based on Gestalt Principles",
Thomas Werner, German Martin Garcia, Simone Frintrop.
[10:20-10:40] "Person Re-identification Based on Multi-directional Saliency Metric learning",
Zhonghua Huo, Ying Chen.
[10:40-11:00] "Image Saliency Applied to Infrared Images for Unmanned Maritime Monitoring",
Gonçalo Cruz, Alexandre Bernardino.
Session 1.2 : Medical Applications  [Monday, July 6 @ 11:30-12:30]
[11:30-11:50] "Comparison of Statistical Features for Medical Colour Image Classification",
Cecilia Di Ruberto, Giuseppe Fodde, Lorenzo Putzu.
[11:50-12:10] "Learning Appearance Features for Pain Detection using The UNBC-McMaster Shoulder Pain Expression Archive Database",
Henrik Pedersen.
[12:10-12:30] "A Vision-based System for Movement Analysis in Medical Applications",
Sofija Spasojevic, José Santos-Victor, Tihomir Ilic, Sladjan Milanovic, Veljko Potkonjak, Aleksandar Rodic.
Session 1.4 : Human-Robot Collaboration  [Monday, July 6 @ 16:00-16:40]
[16:00-16:20] "Visual estimation of attentive cues in HRI: The case of torso and head pose",
Markos Sigalas, Maria Pateraki, Panos Trahanias.
[16:20-16:40] "Learning Human Priors for Task-Constrained Grasping",
Martin Hjelm, Carl Henrik Ek, Danica Kragic, Renaud Detry.
Session 1.5 : Clustering  [Monday, July 6 @ 16:50-17:30]
[16:50-17:10] "An Online Adaptive Fuzzy Clustering and Its Application for Background Suppression",
Thanh Nguyen, Jonathan Wu, Dibyendu Mukherjee.
[17:10-17:30] "Estimating the number of clusters with database for texture segmentation using Gabor filter",
Minkyu Kim, Jeong-Mook Lim, Heesook Shin, Changmok Oh, Hyun-Tae Jeong.
Session 2.1 : Tracking  [Tuesday, July 7 @ 10:00-11:00]
[10:00-10:20] "Revisiting Robust Visual Tracking Using Pixel-Wise Posteriors",
Falk Schubert, Daniele Casaburo, Dirk Dickmanns, Vasileios Belagiannis.
[10:20-10:40] "Quantifying the effect of a colored glove in the 3D tracking of a human hand",
Antonios Argyros, Konstantinos Roditakis.
[10:40-11:00] "Robust Marker-Based Tracking for Measuring Crowd Dynamics",
Wolfgang Mehner, Maik Boltes, Bastian Leibe, Markus Mathias.
Session 2.2 : Retrieval  [Tuesday, July 7 @ 11:30-12:30]
[11:30-11:50] "Region-of-Interest Retrieval in Large Image Datasets With Voronoi VLAD"
Aaron Chadha, Yiannis Andreopoulos.
[11:50-12:10] "Querying 3D Data by Adjacency Graphs",
Nils Bore, Patric Jensfelt, John Folkesson.
[12:10-12:30] "Efficient Media Retrieval from Non-Cooperative Queries"
Kevin Shih, Wei Di, Vignesh Jagadeesh, Robinson Piramuthu.
Session 2.4 : Descriptors  [Tuesday, July 7 @ 16:00-17:30]
[16:00-16:20] "Improving FREAK Descriptor for Image Classification",
Cristina Hilario Gomez, Kartheek Medathati, Pierre Kornprobst, Vittorio Murino, Diego Sona.
[16:20-16:40] "Geostatistics for Context Based Image Classification",
Felipe Codevilla, Nuno Gracias, Silvia Botelho, A.S.M. Shihavuddin, Samuel Purkis, Rafel Garcia.
[16:40-17:00] "How good is Kernel Descriptor on Depth Motion Map for Action Recognition",
Thanh-Hai Tran, Van-Toi Nguyen.
[17:00-17:20] "Bayesian Formulation of Gradient Orientation Matching",
Hakan Ardo.
[17:20-17:40 ] "Arabic-Latin Offline Signature Recognition Based on Shape Context Descriptor",
Ahmed Omar, Nagia Ghanem, Mohamed Ismail.
Session 3.1 : Pose Estimation 1  [Wednesday, July 8 @ 10:00-11:00]
[10:00-10:20] "3D Object Pose Refinement in Range Images",
Xenophon Zabulis, Manolis Lourakis, Panagiotis Koutlemanis.
[10:20-10:40] "Teach it Yourself – Fast Modeling of Industrial Objects for 6D Pose Estimation",
Thomas Sølund, Thiusius Rajeeth Savarimuthu, Anders Buch, Anders Beck, Norbert Krüger, Henrik Aanæs.
[10:40-11:00] "Shape Dependency of ICP Pose Uncertainties in the Context of Pose Estimation Systems",
Thorbjørn Iversen, Anders Buch, Norbert Krüger, Dirk Kraft.
Session 3.2 : Pose Estimation 2  [Wednesday, July 8 @ 11:30-12:30]
[11:30-11:50] "Object Detection Using a Combination of Multiple 3D Feature Descriptors",
Lilita Kiforenko, Anders Buch, Norbert Krüger.
[11:50-12:10] "Online Re-Calibration for Robust 3D Measurement using Single Camera- PantoInspect Train Monitoring System",
Deepak Dwarakanath, Carsten Griwodz, Paal Halvorsen, Jacob Lildballe.
[12:10-12:30] "Sleep Pose Recognition In An ICU Using Multimodal Data and Environmental Feedback",
Carlos Torres.
Session 3.3 : Agriculture and Food Industry Applications  [Wednesday, July 8 @ 13:30-14:30]
[13:30-13:50] "Object Detection and Terrain Classification in Agricultural Fields using 3D Lidar Data",
Mikkel Kragh, Rasmus Jørgensen, Henrik Pedersen.
[13:50-14:10] "Soil Surface Roughness using Cumulated Gaussian Curvature",
Thomas Jensen, Lars Munkholm, Ole Green, Henrik Karstoft.
[14:10-14:30] "Including 3D-textures in a Computer Vision System to analyze quality traits of loin",
Daniel Caballero, Mar Avila, Maria Luisa Duran, Andres Caro, Trinidad Perez-Palacios.
Session 3.5 : Hardware Implementations  [Wednesday, July 8 @ 16:00-16:40]
[16:00-16:20] "A Flexible High-Resolution Real-Time Low-Power Stereo Vision Engine",
Stefan Gehrig, Reto Stalder, Nico Schneider.
[16:20-16:40] "Real time Vision System for Obstacle Detection and Localization on FPGA",
Ali Alhamwi, Bertrand Vandeportaele, Jonathan Piat.
Session 3.6 : 3D Reconstruction  [Wednesday, July 8 @ 16:50-17:30]
[16:50-17:10] "Surface Reconstruction from Intensity Image using Illumination Model based Morphable Modeling",
Zhi Yang, Varun Chandola.
[17:10-17:30] "Quantitative Analysis of Surface Reconstruction Accuracy Achievable with the TSDF Representation",
Diana Werner, Philipp Werner, Ayoub Al-Hamadi.
Poster Presentations
Session 1.3 : Poster Presentations 1  [Monday, July 6 @ 14:30-15:30]
"An Efficient Eye Tracking using POMDP for Robust Human Computer Interaction",
Ji Hye Rhee, WonJun Sung, Mi Young Nam, Hyeran Byun, Phill Kyu Rhee.
"CBIR Service for Object Identification",
Mikuláš Krupička.
"Towards a robust system helping underwater archaeologists through the acquisition of geo-referenced optical and acoustical data",
Benedetto Allotta, Riccardo Costanzi, Massimo Magrini, Niccolò Monni, Davide Moroni, Maria Antonietta Pascali, Marco Reggiannini, Alessandro Ridolfi, Ovidio Salvetti, Marco Tampucci.
"Enhanced Residual Orientation for Improving Fingerprint Quality",
Jing-Wein Wang, Ngoc Tuyen Le, Tzu-Hsiung Chen.
"An Informative Logistic Regression for Cross-domain Image Classification",
Guangtang Zhu, Hanfang Yang, Xiangdong Zhou.
"Human Action Recognition Using Dominant Motion Pattern",
Snehasis Mukherjee, Apurbaa Mallik, Dipti Prasad Mukherjee.
"Comparative Evaluation of 3D Pose Estimation of Industrial Objects in RGB Pointclouds",
Bjarne Grossmann, Mennatullah Siam, Volker Krüger.
Session 3.4 : Poster Presentations 2  [Wednesday, July 8 @ 14:30-15:30]
"Adaptive Neuro-Fuzzy Controller for Multi-Object Tracker",
Duc Phu Chau, Kartick Subramanian, Francois Bremond.
"Human Action Recognition Using Dominant Pose Duplet",
Snehasis Mukherjee.
"Robust Facial Feature Localization using Data-Driven Semi-Supervised Learning Approach",
Yoonyoung Kim, SungJin Hong, Ji Hye Rhee, Mi Young Nam, Phillkyu Rhee.
"D2CO: Fast and Robust Registration of 3D Textureless Objects using the Directional Chamfer Distance",
Alberto Pretto, Marco Imperoli.
"Can Speedup Assist Accuracy? An on-board GPU-Accelerated Image Georeference Method for UAVs",
Loukas Bampis, Evangelos Karakasis, Angelos Amanatiadis, Antonios Gasteratos.
"Differential Optical Flow Estimation under Monocular Epipolar Line Constraint",
Mahmoud Mohamed, Hossein Mirabdollah, Baerbel Mertsching.
"General Object Tip Detection and Pose Estimation for Robot Manipulation",
Dadhichi Shukla, Özgür Erkent, Justus Piater.